Imagine one day you wake up full of energy and love what you see in the mirror every morning…
Imagine enjoying your favorite foods guilt-free
Imagine feeling amazing about yourself and not getting worried about every calorie that you're consuming.
Our body goes through changes as we get older, so does our diet.
It's true what they say that we are what we eat.
Eating the appropriate foods becomes even more crucial for women over 40 in order to avoid health concerns.
Calcium is important for bone health
Osteoporosis is a topic that receives a lot of attention, and most elderly ladies are aware that their chance of having this bone disease rises as they become older. In fact, one in every three women over the age of 40 is a danger of breaking a bone due to osteoporosis. Men are affected by osteoporosis as well but at a lower rate.
As we age, we absorb less calcium, and some women's ability to handle dairy, which is one of the finest sources of calcium, declines, Other good sources include dark leafy greens and calcium-fortified orange juice.
Women over the age of 50 require 1,200 mg of calcium every day. Keep track of your intake by reading the Nutrition Facts label on food goods.
Protein is necessary for maintaining a healthy muscle mass
Women in their later years tend to sit more and exercise less. This accelerates the natural aging process of sarcopenia or the loss of muscular mass. Women may lose up to half of their skeletal muscle mass by the time they reach the age of 80. Muscle atrophy can be slowed down by eating enough protein.
If you make smart choices, a healthy plant-based diet that excludes meat, a key source of protein, can nevertheless provide sufficient protein. Eating more things like soy, quinoa, eggs, dairy, almonds, seeds, and beans are recommended for women over 50.
Your protein requirements are determined by your weight. It is recommended to have  1 to 1.5 grams of protein per kilogram of body weight (1 kilogram = 2.2 pounds) for women over 50.
Vitamin B-12 is essential for the health of your brain
Women absorb fewer nutrients from their food as they get older. One nutrient they may be lacking in vitamin B-12, which is required for both healthy red blood cells and cognitive function.

Eggs, milk, lean meats, seafood, and fortified foods such as cereals and grains are the finest sources of vitamin B-12. Vegans will need to eat more fortified foods, but even senior people who eat a variety of meals may struggle to absorb enough vitamin B-12. It's also important to have a diet for weight loss for females which you'll get into the more you keep reading.
While 2.4 mcg of vitamin B-12 per day is the recommended daily dose for women over 40, It is always good to speak with your doctor to see if you additionally need a supplement.
Make entire foods your diet's base. A diet rich in whole grains, fruits, and vegetables will help you avoid many of the difficulties that come with getting older.
You should not wait till you're thirsty to drink
 As you age and become elder, the way your body recognizes when you're thirsty completely changes. So make sure that you're drinking plenty of water, even if you don't feel thirsty. It is advisable that you should carry a water bottle with you and drink a glass of water with each meal that you consume.
Make a mealtime appointment and stay consistent and committed to it. Write the plan on a calendar and stick it on the fridge or somewhere you can easily see it and you're more likely to eat that apple if you make an 'appointment' with it.
Here are some Weight Loss Tips for People Over 50
Make your body move
My first piece of advice is to get moving. And when I say move, I mean just move. You don't have to run a marathon, join CrossFit, or engage in any other strenuous activity.
Every day, try and walk a couple of miles. Try doing some yoga or Pilates. Dance to the beat of your own drum. However, you must move every day. Begin to breathe deeply.
Walking 3 miles practically every day has shown to be really useful. In addition, you should perform some strength workouts—nothing significant, but particular leg, arm, and chest exercises that walking does not provide.
Doing high-intensity workouts a couple of times per week is beneficial.
To be honest, you should gravitate towards things that make you happy.
I'm not a big fan of pain or a lot of intensity. Moving on a regular basis, on the other hand, feels fantastic. And when I exercise on a regular basis, I notice a difference in how I appear and how well I maintain my weight.
Moving not only helps you lose weight, but it also helps you live a healthier life!
Check out the diet Plan of Jennifer Aniston
Jennifer who is 52 years old likes to start her day with a cup of hot water with a slice of lemon in it.
She makes sensible breakfast choices because she understands that it is the most important meal of the day. Her favorite breakfast is toast and poached eggs with avocado and a drizzle of coconut oil.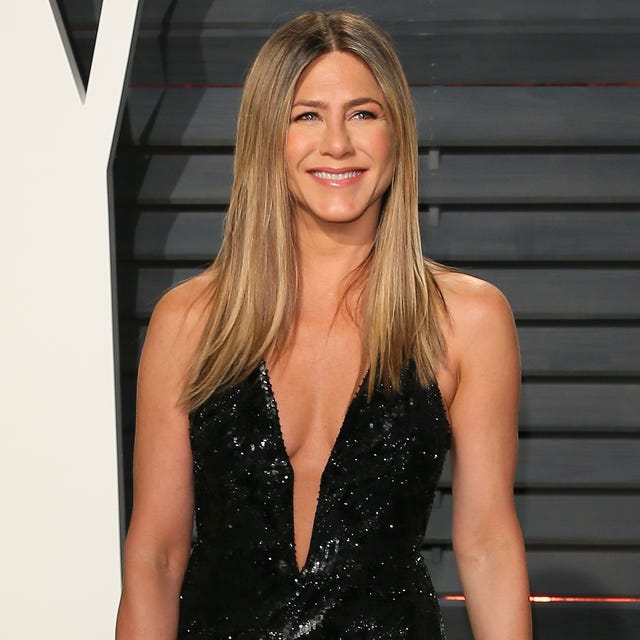 She also enjoys millet cereal with bananas and almond milk.
Above all else, she believes in the power of a good shake or smoothie. "Pure protein, bananas, blueberries, frozen cherries, stevia, a vegetable mix of dynamic greens, maca powder, and a little chocolate," she says of her concoction.
Jennifer enjoys porridge with a beaten egg white for breakfast on occasion. Jennifer Aniston keeps herself hydrated by drinking more than 20 Smart Water bottles throughout the day.
Her meal is made up of vegetables in the shape of a salad and a balanced serving of protein. Her meal usually consists of cheese, lentils, cucumbers, white beans, and tomatoes. Celery soup is another favorite of hers.
Aniston eats frozen grapes, an apple, or a handful of nuts as a snack. She either gets fish cooked with a lot of vegetables or a salad for dinner. Jennifer Aniston's diet revolves around a high-protein, low-fat eating regimen that includes plenty of omega-3-rich fish oil.
When she's not dieting, she enjoys a fantastic Mexican or spaghetti meal. She focuses on reducing harmful carbohydrates and increasing lean protein intake.
Are you ready to motivate yourself now that you know her secrets?
Sugar and sugar-like meals should be avoided
This is most likely the worst news of the entire post.
But I'm not sure how you can maintain a healthy weight if you're still eating a lot of sugar and sugar-like items.
Some women can get away with consuming this stuff when they're young, but that isn't the case for everyone. I'm thankful I gave up most sweet foods 10 years ago. Every day, my skin and body appreciate me!
We see these foods as treats for the majority of our lives, but they are taxing on our health.
They have an impact on the fat-storing and fat-burning hormones in our bodies. It is critical to comprehend this.
Sugar and sugar-like substances tell our bodies to perform the exact opposite of what we want.
Stop munching
For years, we've been told that we should snack or eat every couple of hours.
Certain medical situations may necessitate this, but for the most part, we don't need to eat every two hours.
You won't even need to snack if you consume enough of the correct kinds of foods at your meals. Between meals, you won't even be hungry.
What keeps you hungry in between meals? Snacking on foods that elevate insulin levels and cause more desires.
Do you remember what used to make me hungry? Breakfasting on cereal or oatmeal.
I don't get hungry for hours now that I eat eggs and vegetables! We've been taught that "breakfast" items must be consumed first thing in the morning.
In the morning, you can eat whatever you like. If you want a breakfast flavor, use ground turkey seasoned like sausage. Alternatively, consume leftovers from the previous night's dinner.
You can even skip breakfast to extend your fast.
The idea is to consume enough actual food in appropriate quantities with enough fat to keep you from becoming hungry.
Increase your fat intake
It's becoming common knowledge that eating fat does not make you fat.
People are still hesitant to accept that butter, olive oil, and even animal fat are not the cause of their obesity.
It's not the case. And the truth is that eating more of the proper types of fat with the right foods will help you lose weight.
I should point out that the type of fat I'm referring to is not found in cakes or conventional fast foods. Bad fat mixed with sugar or sugar-like meals will not only make you fat but will also harm your body.
Your body fat is not your adversary. It is an incredible organ that is necessary for your survival. However, modern diets can be perplexing at times. Despite this, the majority of us rely on our body fat to keep us alive.
Healthy fats, on the other hand, are good for your body and help it perform what it's designed to do. Here are some examples of excellent fats in case you're not sure what they are:
Olive oil (I'm sure you've heard of it!)
Ghee or butter
Fats from grass-fed or pasture-raised animals
Full-fat coconut milk with coconut oil
Nuts\s
Avocados
Here's how you eat enough at each meal to avoid snacking. Prepare your favorite protein as well as as many veggies as you desire, particularly non-starchy vegetables.
Have a tiny sweet potato or some winter squash as a source of starch. After that, add a tablespoon or two of butter, olive or coconut oil, and avocado. Make sure there's enough fat in there to make everything taste wonderful.
I can't tell you how many times I've seen women eating a large salad with a small amount of dressing on the side and delicately dipping their lettuce into it. Those women become hungry roughly a minute after finishing their meal.
However, if you add some chicken or eggs to your salad, as well as a couple of teaspoons or two of healthy oil, it will not only taste good, but it will also keep you full until you are ready to eat again.
Intermittent fasting or time-restricted eating are both options
Intermittent fasting (IF) is simply the division of your meal plans into eating and fasting times. This novel fasting method has recently gained a lot of popularity among the younger generations. However, the diet has significant advantages for older people, particularly women. For women over 50, what are the advantages of intermittent fasting? Continue reading to learn more.
How Do You Begin Intermittent Fasting?
It's not as difficult as it appears. Let's say you eat dinner at six o'clock tonight and breakfast at eight o'clock the next day. That's a pretty doable task! You can do a 12-hour fast without missing a meal.
According to some publications I've read, performing just this one item can help you lose weight without changing your diet.
The majority of what I've read says that ordinary coffee or tea in the morning is good and won't break your fast.
Women's Intermittent Fasting: Hormone Balancing and Crescendo Fasting
Because of the existence of a molecule called kisspeptin, women are naturally more susceptible to intermittent fasting. This sensitivity can lead to irregular periods, disrupted cycles, and hormonal imbalance in women.
Having said that, it's important to remember that no two women are the same. Some people do well with intermittent fasting, while others do not. Should this imply that individuals who are sensitive to it should avoid intermittent fasting? No.
EASY WEIGHT LOSS SUGGESTIONS FOR THOSE OVER 50
It shouldn't be difficult to maintain a healthy weight. However, in today's world of fast food, convenience foods, and other convenience foods, it can be difficult.
I invite you to investigate these concepts, try them out, and see how you feel while doing so.
Choose one or two to do on a regular basis for a few weeks. After that, add another. For the rest of your life, learn to truly care for your body!
These suggestions are simple, but losing weight can be difficult at times. It is, nevertheless, conceivable, and you will need to experiment to find the best mixture for your body.
---
Beloved Viewers
Vogue Wellness just began as a health and also wellness blog, striving to offer updated and also impartial information and suggestions on Health care in India and also the Globe that are of the rate of interest to its viewers, as well as have bigger political and also financial effects. Your support and constant feedback on exactly how to boost our offerings will make our commitment to these efforts more powerful. Also throughout these challenging times occurring out of COVID-19, we continue to continue to be committed to you, keeping you informed and updated with Health and wellness as well as Health news worldwide. We request you to remain at home and comply with preventive procedures and also government standards to save your life, as well as additionally those around you during these screening times.

We, nonetheless, have a request.
As we battle the economic effect of the pandemic, we need your support even a lot more, so that we can proceed to provide you extra quality web content. We anticipate extra registrations to our online blog site to attain the collection objectives so that we can provide you with much better as well as more relevant web content.
Register For Vogue Wellness-Where health thrives. , if you like the web content please do share.
Disclaimer:
As a solution to our visitors, the Vogue Wellness website gives access to our library of archived content. Please keep in mind the date of the last review or upgrade on all articles. No material on this website, despite day, ought to ever be used as a replacement for direct clinical suggestions from your physician or other qualified medical professionals.
Vogue Wellness simply kicked off as a health and wellness as well as health blog site, making every effort to give updated and honest info and guidance on Medical care in India and also the World that are of passion to its visitors, as well as have bigger political and economic ramifications. We expect extra memberships to our online blog to accomplish the collection goals so that we can provide you with much better and extra relevant content. Disclaimer: As a solution to our visitors, the Vogue Wellness portal offers accessibility to our collection of archived material.