Please Update your browser
Your browser is out of date, and may not be compatible with our website. A list of the most popular web browsers can be found below.
Just click on the icons to get to the download page.
Or continue login with
Surrounded by forests, rivers and waterfalls, visitors at Bali's COMO Shambhala Estate get the best out of nature and luxury accommodation.
As the bustle of Denpasar, Bali, started to dissipate and more land appeared left and right, COMO's driver, who had picked us up from the airport, began to chat.
"I've been the estate's driver for decades," he said. "My house is only five minutes away from the property."
And when the car made a left onto a road surrounded by trees and temples, his story started to take shape: This estate is run by the local villagers. And eventually we, the visitors, met them every day during our visit as if they were our neighbors. In a way, they were.
"I go back home in the evening, to take care of my children," said Karti, one of the resort's personal caretakers. The Jakarta Post and other media outlets were invited to visit this resort in Melinggih Kelod village, Banjar Begawan, just on the outskirts of Ubud, Bali, from June 10 to 13.
Karti and the rest of the staff donned traditional Balinese attire as they showed us some parts of the area. Not all, of course. The entire estate is 9.3 hectares, completely surrounded by forests and waterfalls. As we were led to a spacious wooden ledge, we saw the tree-covered area below and the Ayung river running across it. No wonder international stars like John Legend and his wife Chrissy Teigen have made this COMO Shambhala Estate in Bali their habitual destination.
"Sometimes you can find monkeys jumping on those trees," Karti said. And it was true; it did not take long for them to appear and greet us.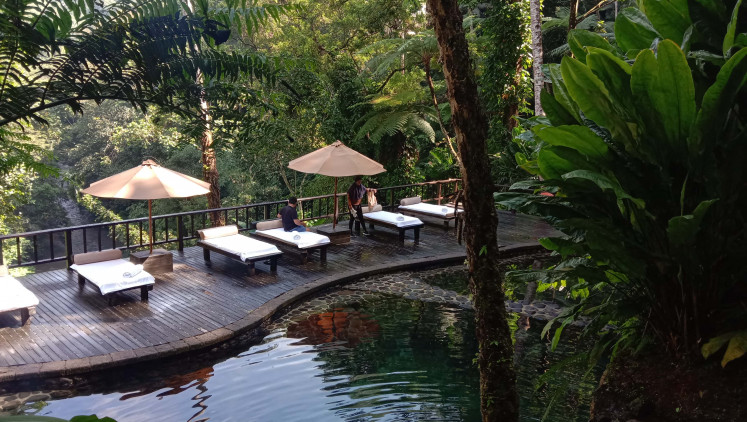 Relax in nature: Unwind at one of COMO Shambhala Estate's spring pools located in the middle of the forest. (JP/Radhiyya Indra) (JP/Radhiyya Indra)
Nature meets luxury comfort
There are five enormous residences within the estate, separated roughly 200 meters away from one another. Each residence has its own element (wind, water, fire, earth and forest) with four to five suites, where we stayed.
Like any residential houses, these suites — as big as a log cabin — stand apart from each other, if you are concerned about tranquility. Coming here feels like going from the comfort of our home to the comfort of another home.
The Post stayed in the Tejasuara residence, which represents the fire element, and it lives up to its name: A bonfire pit was lit up every night in front of the pool. The main pavilion is made up of dark wood. Its white rocks and walls might give the impression of Greek houses near the sea, but they were imported from the Indonesian eastern island of Sumba.
Just a peek inside the suite from the glass doors shows a lot about this luxury resort. With wooden frameworks and a modern thatched roof, it opens to a king-sized bed in the center with a picturesque view of the Ubud landscape from its huge windows. Behind the black bamboo bed frame, backed by a large wall, is a 3-meter-long marbled sink that faces a wide, doorless alley for the shower.
The natural theme reaches a new height in the suite's outdoor bathtub. It is clearly a backyard, but with its transparent roof and walls of tree-covering, it feels like you are taking a bath out in the forest.
As it turns out, each residence has different designs and configurations. The water element residence, Tirta Ening, for example, has a water fountain and a fish pond, and every suite resembles a ship with its ropes and knots. The earth element residence, Umabona, is full of hand-carved relief and designs resembling old Indonesian palaces.
One thing is for sure, luxury is very much taken into account when you lie down on one of the sofas, looking out at the nature outside, any visitor would feel one with the forest but in the comfort of a five-star hotel.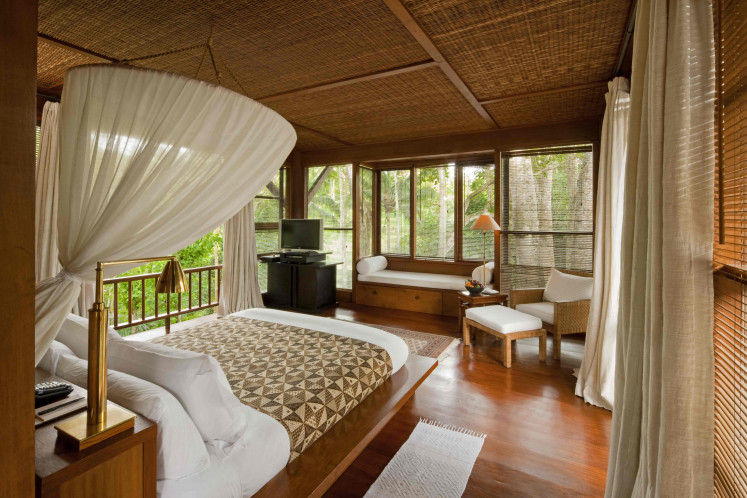 Cabin-sized room: The terrace suite in Tirta-Ening residence boasts an extensive space with a direct view of Bali's nature. (Courtesy of COMO Shambhala Estate) (Courtesy of COMO Shambhala Estate/Courtesy of COMO Shambhala Estate)
Health and wellness
There is a reason why we were treated with the best of both worlds here: The estate wanted us to be healthy and well. COMO's Integrated Wellness Program is an extensive effort to provide visitors with the best health plan for whatever they need, be it a healthy diet, digital detox, body fitness, meditative mind — the list goes on.
COMO Shambhala goes to great lengths to ensure visitors get what they need. A health form was sent prior to our visit. Their health expert and Ayurvedic (Indian alternative medicine) doctor, Dr. Prasanth, spoke to each of us to ask about our daily routine: what we eat, how many hours we sleep, and more. He and his nutritionist team then tailored our menu plan to suit our needs.
And the food alone greatly succeeded in making us feel well. With fresh products taken from their own backyard, the dishes vary from ayam Taliwang (chicken braised and grilled in coconut and lemongrass) to Southern Indian dhal (an Indian dish of dried, split pulses). Those of us who chose a diet plan were advised not to eat beef or poultry, yet everyone was satisfied with the likes of spiced flaked salmon and Bali's traditional menyatnyat fish.
The restaurant included tasty vegetables and fruits in the dishes. Its "wellness juices" contain everything from watermelon and cucumber, to turmeric, all of which have their own benefits, such as relieving headaches or nourishing lean body mass. Local tangerine and medicinal shots like golden jamu (Indonesian herbal medicine) were served with no sweeteners. Even the mineral water —taken from the nearby sacred spring they called "The Source" – tasted as fresh as the name implies.
Food was not COMO's only way to make us feel better. We embarked on yoga and meditation classes, a much greater experience when the view is Bali's vast, green landscape. The estate also provided a hydrotherapy session where we could have water jets massage our bodies in the swimming pool. Visitors are welcome to choose their wellness activities, be it rice field biking or a jungle gym workout.
And everything was topped off by COMO's soothing massage by its skilled massage therapists. The ethereal scent of their highly-recommended essential oils filled the room that glowed in the evening light.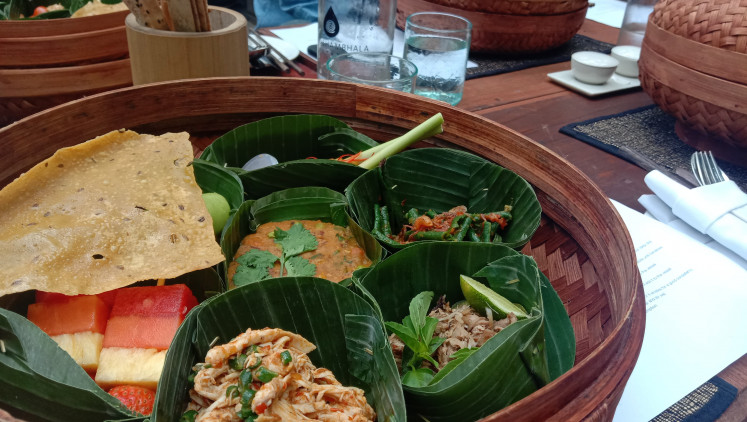 Healthy and tasty: A plate of Indian "khichdi" (a South Asian dish made of rice and lentils), Balinese "sate lilit" (a traditional Balinese satay dish) and other dishes from COMO Shambhala Estate's nutrition-aware kitchen, served during lunch near the water garden. (JP/Radhiyya Indra) (JP/Radhiyya Indra)
Paradise getaway
One of the most rewarding wellness experiences was the estate walk that COMO had to offer. It was not more than a walk around the area, but a big enough flex — visitors could see and be in awe of the green vastness of the property.
The track was surrounded by greeneries and waterfalls. Scents of assorted plants wafted throughout the fresh air and shouts of people who went rafting nearby could be heard every three minutes.
Eventually, the earth road cleared and we encountered the estate's three natural spring pools. Visitors get to see the water rushing down from "The Source" and it could not have been more apparent why many stay at this estate for weeks to have the right "healing" getaway.
We were also able to experience the Balinese-Hindu purification ritual, melukat (to cleanse or purify). Dressed in traditional attire, we were guided by the local priests and we washed ourselves with pure water from the spring. As much as the view and accommodation refreshed our minds and bodies, we got a full cleanse of the soul as well.
Why Indonesian E-sports Athletes Are Today's Money-making Superstars
TJP Documentaries: Viral Chef Vindy Lee Takes Our Indonesian Snacks Etiquette Challenge
TJP Documentaries: When The Music's Over
© 2016 – 2022 PT. Bina Media Tenggara