Newsletter
Give the Gift of Health & Wellness on a Community and Personal Level
We tend to limit our ideas of what a good gift is. Sometimes you just need to look within! Health and wellness are large topics of discussion, which has resulted in lots of products designed to promote attention to these concepts. However, a gift doesn't have to be material. Show someone you care about their activity interests and well-being by paying for a fitness class or joining them in one they're already in. Find stillness at the Shvitz, a historic Detroit health club if you're looking for less movement.
This week, Detroitisit's Gift Guide 2021 stepped out of shops and into places helping where people connect more with their bodies and the community. It's always an excellent time to support local Detroit businesses, but especially around the holidays. Detroitisit rounded up local Detroit businesses that are focused on helping you feel good!
 
Detroit Yoga Lab is a sweaty embrace of better health. Their studio environment is intended to feel like home, which creates an inner nurturing as well as within the community. Unfamiliar with DYL? Start off with their "New Client Journey", which includes In-Studio, Live Stream + Replay Classes for 2 weeks. Select a $50 or $100 Giftcard to motivate someone in your life. Private Sessions are also a great gift. Spiritually attuned and deeply educated instructors teach skillful sequences and functional alignment, so you develop more strength and flexibility. It's the perfect place for those looking for meditation and mindfulness involved in traditional yoga.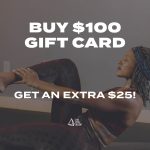 Live Cycle Delight is several aspects of health wrapped up in one. Overall, it promotes the nurturing of an active lifestyle. All-level fitness practitioners join together to Train, Sweat, and Restore through focused bodywork. Join with your friend, so you can both be energized for the year ahead! This holiday they're offering $25 if you buy a $100 gift card. Find TRX and Indoor Cycling at Live Cycle Delight on Agnes St. and Yoga & Pilates at LCD Hot on Van Dyke St. Mask coverage is mandatory, so check out their LCD shop for some Gaiter-style face masks among other signature apparel.
Meta Physica located in Detroit's Corktown neighborhood helps people live their best life by providing massage and promoting health and wellness.  Metaphysica instills a conscious act of well-being even in their spas. Services include massages, private full-spectrum infrared saunas, craniosacral therapy, myofascial release, reflexology, and full body waxing.  Some products their clients love: Jade Gua Sha Stones, Incienso de Santa Fe (incense fragrances & incense burners created in New Mexico), and Arnicare Cream.
Open to members and guests since 1930, The Schvitz is Detroit's original urban health club and the only historic bathhouse left in the city. Modern Wellness and fitness places are inventive. However, sometimes health is about stripping down to the basics. This storied landmark and cultural institution is proud to offer ancient heat therapies and holistic healing for nearly 100 years. Click here to purchase a gift card for someone that could use a day of relaxing. You could also book a party and enjoy their food after. What better way to ring in a new year than one where you can forget about time? Unwind!
Vibe Ride flexibly defines health and fitness. Community fitness is the motivation behind their empowering environment as they constantly strive to do better. Already have a cycler in your life? Amp up their riding gear with a pair of Cycling Shoes with SPD Clip.  Check out the rest of their shop for sweet graphic tees. They offer a range of classes, including Pound, Barre, and indoor cycling for all fitness levels. Supportive fitness coaches encourage everyone to achieve their health goals. "Give good vibes" to the active person in your life by paying for a class or even 5 or 20 classes. They'll thank you once they're engaged in a class with energetic instructors and upbeat tunes.
PHOTO TEFFOLA
What is Teffola? Teff (an African cereal) plus handmade granola. Teff (African cereal) plus handmade granola. The grain is grown on their 7th generation farm in southern Michigan and mixed with prime vegan ingredients to make granola unique each time. Based in Plymouth, this supporter of the "Spirit of Detroit" is welcome. Finish off this health gift guide list with a wholesome snack to go along with your gift. Teffola is for health-conscious individuals seeking out bold flavors. If all the flavors sound good, why not order the Teffola Variety Pack ($28.99)? You'll get a full size of Original, new, and improved Chocolate Charm, and Berry Burst.
 
As always, be sure to subscribe to our newsletter for regular updates on all things Detroit and more.
A resource for supporting local businesses during the Covid-19 pandemic. Also provides remote activities around you.