Kelly Taylor – July 25, 2022
For more than a decade, Dalhousie has recognized Faculties, departments and units that lead the way in workplace wellness through the Healthy Workplace Award.
This year, the Faculty of Management and the Registrar's Office share the honour, with an impressive array of wellness activities that support their teams through personal and professional development opportunities.
The Healthy Workplace Award recognizes a Dalhousie workplace whose practices promote and support employee health, engagement, and well-being. Each nomination showcases activities along seven dimensions of wellness: physical, mental, social, intellectual, spiritual, environmental, and workload management.
The award is aligned with the Workplace Wellness Strategy (2021-2024), which was introduced earlier this year under the Inclusive Excellence pillar within the university's strategic plan, Third Century Promise.
The pandemic compelled members of the Faculty of Management to think creatively, switching from previous in-person activities to solutions that worked remotely. They held virtual lunches and recipe sharing, online art and craft sessions, trivia lunches, and themed photo sharing chats on Microsoft Teams. Beyond being simple online connection points, these activities provided glimpses into colleagues' passions and personalities that did not happen with previous activities, making the connections more meaningful.
Online learning opportunities about nutrition, yoga and ergonomics were among the additional ways the Faculty helped people feel supported. It was an opportunity to support local practitioners and Dalhousie's own students to share their expertise virtually.
The Faculty's annual Community Volunteering Day became a week of Random Acts of Community Kindness and they shared their individual contributions on social media. These and other efforts contributed to a substantial increase in the Faculty's belonging scores for both faculty (44% -> 86%) and staff (58% -> 84%) on the Your Voice workplace survey.
Anna Cranston, nominator, states in their submission that "anecdotally it is easy to point to the numerous thank yous and positive comments we receive from our Management community at the conclusion of our events. That's what makes the hard work worth it; knowing that we have enabled people to feel more connected, given respite to the loneliness, or provided access to expert advice."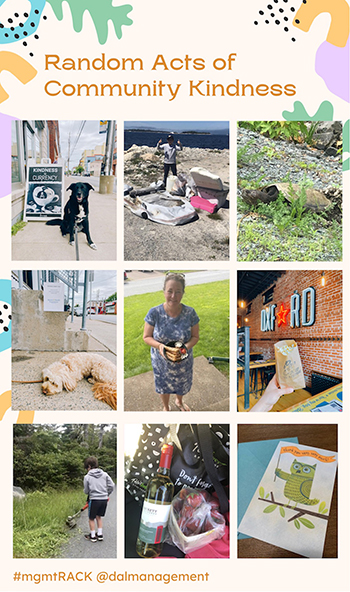 Some images from Faculty of Management's virtual community day 'Random Acts of Community Kindness' June 2021
In response to disappointing results from its 2019 Your Voice workplace survey, the Registrar's Office conducted consultations to better understand the results and identify high-priority actions. They developed a customized version of Dal's ACHIEVE tool to provide a structured way to recognize staff contributions, emphasize growth and development, as individuals and teams, and integrate competency development into discussions.
In addition, development opportunities were identified for individuals and for everyone, with a focus on equity, diversity, inclusion and accessibility (EDIA) topics. Responding to feedback from staff, quarterly full-day in-service days were instituted to carve out time for learning and reflection.


Above, the monthly Registrar's Office Coffee Break
Wellness also shares the spotlight, with a wide range of opportunities provided, from physical activity challenges to snail-mail pen pals. A deliberate focus on communication and meeting effectiveness in a new "monthly coffee break," and newsletters that highlight staff profiles and opportunities, also reaped benefits for the whole group.
Their dedication to team wellness and development saw Your Voice survey scores for leadership supporting well-being activities improve from 37% to 73% and flexibility to dedicate time to well-being during the day increase from 33% to 51%.
Christina Coakley, nominator, states in the submission that "we are thrilled to be on a positive trajectory, and these results demonstrate that efforts to date have been bearing fruit. However, we recognize that this is just the beginning and there is more work to do to create an exceptional workplace for our team."
Congratulations to both teams for supporting their members, over and above the demands of their busy operational responsibilities. The Healthy Workplace Award winners will be formally recognized at the annual Dalhousie Legacy Awards being held this fall.
Dal News welcomes discussion from members of the Dalhousie community and beyond, but urge comment writers to be respectful and refrain from personal attacks. False or unsubstantiated allegations, libellous statements and offensive language are not allowed. External links must be appropriate and relevant to the subject being discussed.
We encourage commenters to use their real first and last names.
Please note that comments that appear on the site are not the opinion of Dal News or Dalhousie University but only of the comment writer. The editors reserve the right to post, or not to post comments, edit or not edit, at their discretion.
Halifax, Nova Scotia, Canada  B3H 4R2
1-902-494-2211
Agricultural Campus
Truro, Nova Scotia, Canada  B2N 5E3
1-902-893-6600
 
Dalhousie University
Halifax, Nova Scotia, Canada B3H 4R2
1.902.494.2211